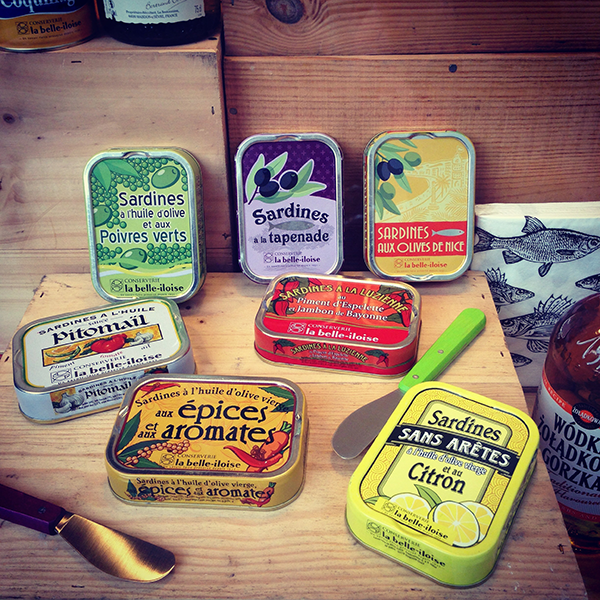 After my first research trip for 100 Places in France Every Woman Should Go, I learned to pack an extra suitcase. A duffel bag from REI folded into its own little zipper case that slips right behind the rest of the stuff on the way over. The extra baggage fees are awful, of course, but 70 euros is a relatively small sum to pay to carry home postcards, flyers, business cards, hotel stationery (guilty – I love the envelopes in France, and they are useful for gathering research- more below) books, trinkets, a random bottle of Calvados, those pretty tins from Belle Îloise, a tube of Homeoplasmine skin ointment, mascara from Serge Lutens, something from the flea market. Much as I'd like to, I'm not talking a Rick Owens leather coat – my idea of fashion perfection – from his store on the Palais-Royal or something more colorful from the Dior boutique on Avenue Montaigne. No, for designer extravagance, I'm strictly stateside and usually on-sale.
When I open up my extra bag at home, even something I'd picked up a couple of days before incites a rush of memories, even a bit of nostalgia for the person I was earlier that week – the woman who woke up early on Île d'Oléron and rushed into a brocante, and scooped up 3 euros in change from the bottom of her purse for an aging cookie tin. The woman who stuffed bits of paper into an envelope in her bag, ticket stubs from churches and museums and cartes de maison from little stands next to the cash registers at bakeries, boutiques, cafés and flower shops. All this, so I can remember where I was those endless days traveling around France.
It all added up to something: my book. I bought a pamphlet at the Saint-Pierre Chapel in Villefranche thinking, maybe I'd include it in a chapter on Jean Cocteau? I did. I gathered post cards at Sainte-Chapelle after a concert there, where the sun pierced the stained glass windows upstairs, fracturing sunlight into a million glowing shards. Would I consider an entry on seeking out music in Paris' churches? Yes, I would. I grabbed the pretty card at Odile de Changy, a lingerie boutique on rue du Pont aux Choux, the narrow street in the Marais where Mark and I lived when we were married. What about a story about how to shop for the most important part of dressing? Okay, done.
In this respect, writing this book was like writing my yet-unpublished novel. Back then, I had a dry-erase board full of ideas, arrows, categories, subcategories. Characters big and small. Plot lines underlined and circled, names in big red letters. This time, I hung a large bulletin board and stuck totems, maps and mementos into collages on the cork. When that real estate was taken, I spread out, tacking things right onto the wall. Some were names or places I scribbled onto index cards. Camille Claudel. Simone de Beauvoir. Colette. Vézelay. Étretat. Bordeaux. Others were colorful reminders of the places I'd been, enchanting enough to remember, enticing enough to urge other women to go there. A ticket stub from the Musée de la Chasse in the Marais. Where and how could I fit that in to a list of 100 places? Somehow, I did.
As for the stuff, I used it – the creams, the scarves, the lingerie, the Calvados. The bottles and bibelots and antique postcards from the marchés aux puces are another story. They are dispersed here and there, in my office or home or given as gifts, keepers of two stories. The one about where it came from, and the one about the woman who saw it, bought it and took it with her.