When I'm home alone, I'm lonely. When I travel alone, I'm free.

My husband and I once had a friend we referred to as Obvious Man. We knew him when we lived in Europe and he liked to practice his English with declarations that sometimes were, well, obvious. Things like: "You like hamburgers because they are one of the most popular foods in America!" or, "Al Pacino is very good at playing gangsters because he is of Italian origin and the Mafia comes from Italy!" I was thinking of Obvious Man this morning when I began to hike up a trail in Great Barrington, Massachusetts, a town in the Berkshire Mountains. The world seemed super-loaded, Ben & Jerry's Extra Chunky full of symbols and talismans, as one by one they bombarded me with signs that were cheap, but kind of beautiful.
Nothing shatters cynicism about whispers from the universe quite like four weeks of isolation. Even spending time with friends – walking our dogs, drinking great wine – doesn't always bust the loneliness of being a writer in a rural town. The tail end of winter is bleak. Branches are strewn about the still-brown yard, a length of fence unfettered itself and wrapped around a tree during one of this season's forty-seven snowstorms. Last October, after growing season, I didn't even remove the dead tomato plants from the raised beds. The withered spindles that remain remind me of my apathy come fall, when I just need the yard work to end already.
It's been a time of pacing around, waiting: for the phone to ring, for a response, for answers, a scintilla of an idea that might take form in my head and emerge on a page. For one of my stories, sitting in various stages of the assembly line, to be accepted or edited or published or done. I get lots of e-mails, of course. Goody, the hair accessory manufacturer, keeps in very close touch with me, as does National Car Rental's Emerald Club, and of course Jetsetter certainly has lots of good deals on plush Caribbean resorts. And then there's Facebook! Unlike me, my friends seem to be prolific, not all taking a break from the human race.
In most ways, the empty nest is a thing of beauty. My duties, if anything, are larger and more profound with my now-older children: we have talks about dating and drugs and the future and the responsibilities they're taking on as young adults. But the day-in, day-out is over. My husband and I live alone now and more simply, and we have the space to concentrate on our work, which, however, often takes us both away from home and never at the same time. But sometimes I rattle around the house with an addled brain, wishing for the scaffolding we had even recently, when work had its place around other priorities. Today, my actions have to be intentional and deliberate, and that can be tough with acres of time before me. Now, I can worry all day about my next meeting with the accountant, and the world my kids inhabit. And of course, I can also fritter away time weighing my options on which direction to head: essays, fiction, whether to pause the exhaustive pitching of stories to overworked editors and make way for the big idea. I ponder my many missteps and the moves I am scared to take. I grow confused. I wait. I write.
So lately, I've had too much time alone (and with my dog Gus, who is very entertaining). Novels, hikes, Hardball with Chris Matthews and even two seasons of Scandal are good distractions. But after a while, they are not enough. This is why, when I find a reason, the time and the money to wander – even for one night – I breathe oxygen again.
So today, the 100th day of the year, I busted out. I packed a bag and my computer to make a few edits on my piece for Best Women's Travel Writing Volume 9 (and obviously, to check my e-mails to see what Home Depot has to tell me today).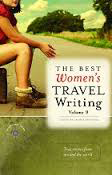 I packed the tea I carted home from Nyungwe, Rwanda in January. I brought the excellent lip balm I snapped up in Stockholm in February. And I wore the surf jacket my friend "lent" me in Hermosa Beach a month ago. I got in the car and drove an hour north to the Berkshires, and I checked into a delicious, chic little motel called The Briarcliff.
Back to our old pal from Paris with whom we've lost touch, not because he was Obvious Man but because we moved away 21 years ago and losing touch can still happen, even in the Facebook age, especially with people over 40. When I pulled into the motel, I was welcomed by an image of a noble-looking bear. Yes, that's right – the animal that hibernates during winter and eventually emerges all disheveled, in order to regain her strength or his purpose.
I asked the owner if there was somewhere nearby I could take a walk alone and not look like an escaped prison convict. The motel is located on Highway 7, after all, with fast cars doing north or south and no sidewalks. He pointed just across the street, about 100 yards down, to Monument Mountain. I jogged over the highway and found the trail entrance.
I am a travel writer but I can't claim one adventurous bone in my body. I travel to hide in plain sight, to immerse myself in elsewhere but emphatically not to push myself into danger. Yet, even in the Berkshires, on this tiny mountain, I knew it was unwise to hike alone. The leaves were slippery and there's always the outside chance of a rabid coyote on the loose, right? So I looked for a club and found one that fit the bill. It spoke to me – a slingshot, an upside down peace sign, V for Victory – this was no ordinary walking stick.
I was wearing the wrong shoes – it's the story of my life – Rag & Bone leather sneakers from the Barney's Warehouse sale in 2009 which look new because I usually don't wear them hiking. I followed the powder blue dots up the trail and the first roadblock came – a fallen tree. So I doubled back and took another path. Soon there was a second fallen tree – this time a graceful birch, which I veered around widely. Then a third fallen tree, which I had to amble over. First, I lay down my weapon and then, like a saddle blanket, my jacket. I sat for a minute. Change course, negotiate, and tackle: me versus the obstacles. Tree trunks. Decisions. Forward movement. It all demands action.
At last, I saw the final blue dot indicating the summit and I decided to try a different path down. I came to a grand stone staircase, like the one in the ballroom of the Titanic, and I was truly confused: which set should I climb? I opted for neither and changed course again. Some things, I just don't want to deal with. Along the way, I came across a waterfall that was gushing like springtime, crashing onto well-worn granite boulders that shone in parts with the winter's last snow. There were tiny icicles deep in the crevasses. They would melt in no time.
At the bottom of the mountain, I placed my stick in a safe place. I wanted to do the walk, shoes and all, again in the morning before I headed back home. I placed it in a bed of leaves to the side of the path and walked back to the Briarcliff, opened the door, and threw the key and myself onto the perfect orange-headboarded bed. And here was Obvious Man again, telling me what I might have known but needed to hear.
It wasn't the last time I though of O.M., though. In the morning, as I crossed the highway after a dish of sublime homemade granola and scones and a killer cup coffee, I wondered what had become of him. He was just one of those people my husband and I have known in our long life together so far. I looked around for my handy rabid-coyote repelling tool and there it was, now upright against a tree, placed there by someone. I don't know if even my former, disappeared friend would know what the universe was signaling to me this morning. But I'm ready to go home and figure it out.